Welcome to Ultimate Metal! Launched in 2000 with the express purpose of promoting the underground scene (at the time) by trying our best to drag it above ground, UM.com has grown to not only be a comprehensive 'zine, covering all corners of the metal genre spectrum, but also one of the largest metal/music communities online.
Latest Features
Alestorm - Pirates and Machine-guns at the new Little Civic.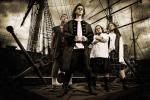 By Ellie McGee
Ultimate Metal's resident folk metal obsessive caught up with Alestorm's Chris Bowes at a rather interesting gig in the depths of Wolverhampton's Slade Rooms. Apparently they're getting into time travel, and recruiting Sean Connery for the new album. Curiouser and curiouser.
Chris Bowes; vocals and...
Read More
Paul Kuhr - Voice For The Betrayed
By Jason Wick
When talking about talented death metal vocalist it's hard not to mention Paul Kuhr's deep, articulated growls. The Novembers Doom front man has been one of the pioneers in bridging the gap between fearsome bellows and emotive lyrics. With his (arguably) heaviest material in These Are They's<...



Read More





Autumns Eyes - Within the Ominous Tone
By Jason Wick
The ever so vast, atmospherically enthralling solo act Autumns Eyes has been thriving under the sole watch of Dan Mitchell for the past decade. Anyone familiar with the project is aware of the unique electrically charged tone underlying its entire discography while musically extending over a large array of genres. I...



Read More





Anaal Nathrakh - Different, But Still Necro
By Ryan Starr
Last year saw Anaal Nathrakh return with a new, very well received, album. UM caught up with V.I.T.R.I.O.L. at the end of last year but we've only just managed to get our asses in gear and do something about it. So without further ado, on to the interview.
After doing some research I've noticed that ...



Read More





Ban The Sadist Videos: An Introduction To Video Nasties And UK Censorship In Fil...
By Russell Garwood

vid•e•o nas•ty (vĭd'ē-ō' năs'tē)
n., -ti•es[$italics]
1. A film released direct to the UK home video market prior to the Video Recordings Act 1984, thought to "deprave and corrupt persons who are likely, having regard to all relevant circumstances, to read, see or hear the matter contained o...



Read More




Ultimate Metal Forum Hosting
Promote your band to tens of thousands of visitors a month! Official, fan, label and zine forums welcome.
Bands:$60 US/year
Labels:volume rates available
Indie bands: $40 US/year
Ask For Details
Currently host to: Opeth, Anthrax, Children Of Bodom, Dark Tranquillity, Symphony X, Threshold, Jag Panzer, InsideOut Music America and more.
© Copyright 2000-2010
MetalAges Media
Don't steal our content without written permission!
Search Engine Optimization by
vBSEO
3.0.0