we are accepting pre-orders and expect to be shipping all orders by first week of November!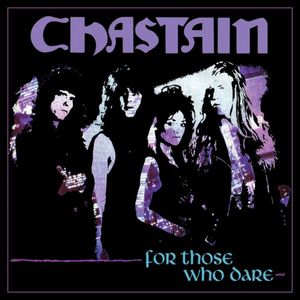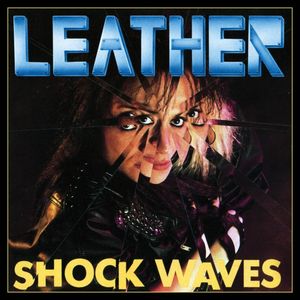 We are extremely excited to present two new reissues coming November 16th on Divebomb Records. CHASTAIN's For Those Who Dare and Chastain vocalist, LEATHER's solo outing, Shock Waves. Both reissues feature 12 page full color booklets with archival photos, informative essays by AOL MUSIC's Carlos Ramirez, remastered audio and brand new interviews with David T. Chastain and Leather Leone.
We are accepting PRE-ORDERS now
BRIEF HISTORY
The spirit of Divebomb Records has always been to shine a light on metal and hard rock albums that, for whatever reason, never truly got the attention they deserved. We can't think of better candidates for our reissue series than Chastain's For Those Who Dare (1990) and Leather's Shock Waves (1989) albums. Although he's criminally overlooked in most "history of heavy metal" overviews, David T. Chastain is one of the most prolific and gifted guitarists the genre has ever birthed. Born in Georgia, Chastain first got on the metal scene's radar with the band C.J.S.S. but it was the group that shared his surname where the whiz guitarist would make the most noise. After signing with Mike Varney's legendary Shrapnel Records, Chastain released 4 critically acclaimed albums of fist rate European flavored metal. Knowing a good thing when they see it, the folks at Roadrunner Records snapped up the band for their fifth and finest moment, For Those Who Dare.
Leather, the former front woman for Chastain, was born in Avon, NY and her muscular vocal performances had more in common with Ronnie James Dio and Ian Gillan, than they did with say, Lee Aaron's. After spending years on the East Coast club circuit, she finally got her break in 1984 when she became the vocalist for Chastain. Check out Chastain albums like 1988's The Voice Of The Cult or 1986's Ruler Of The Wasteland, and you'll hear a singer with an intense presence and clear gift for delivery. Before Chastain got to work on For Those Who Dare, there was other business to handle. Leather would get to release a solo album under the new Roadrunner Records deal. Originally released in 1989, Shock Waves found Le ather in fighting form. Her vocal performances had always packed punch, but on solo cuts like "All Your Neon" and "Diamonds Are For Real," she delivered each line like her life depended on it. The album also showcased songwriting contributions from Pat O'Brien (Cannibal Corpse) and Mark Shelton (Manilla Road).
Although For Those Who Dare and Shock Waves didn't commercially deliver the kinds of sales numbers that they both rightfully deserved, both are must-have releases for any fan of traditional heavy metal. This time out, the hope is that a new crop of metal enthusiasts will discover both albums and find out why Divebomb Records treated these projects with such love and attention.
http://www.youtube.com/watch?v=U93KTmSEwQA