Band Biography
An ugly Death Metal band FACEBREAKER was born in 1999, following a conversation between Janne, Roberth, Mikael and Jonas whom all of them had similar taste and hence decided to start a brutal and straight-forward Death Metal band. Just after a few rehearsal sessions later, they added lead guitar player Janos into their line-up.
Year 2000 was a beginning of a new millennium for FACEBREAKER and so they went into a local studio to record their first demo "Use Your Fist". The following year, FACEBREAKER once again stepped in the studio to record a promotional demo entitled "Hate And Anger", UK based label Rage of Achilles Records got hold of their promotional demo and therefore offered FACEBREAKER a record deal, but they first appeared on a compilation CD by Rage Of Achilles Records called "Conquest For The Empire" featuring the other acts under the same label. Janos quit FACEBREAKER in September 2002 due to a constant lack of time but fortunately a quick replacement for a new guitar player was found and Mika stepped in to fill the shoes of Janos.
A 7" vinyl release for their previous promotional CD "Hate And Anger" was unleashed in 2003 and in July 2003, FACEBREAKER entered the infamous Black Lounge Studios (Carnal Forge, Scar Symmetry, Centinex to name a few) and recorded their first full-length album "Bloodred Hell". The full-length album was finally released in 2004 and it received many good reviews and response worldwide. Unfortunately in late 2004 and early 2005, Rage Of Achilles Records went out of business and "Bloodred Hell" never really got the exposure it really deserved.
In 2005, FACEBREAKER started working on new material even though they were faced without a record deal. Several labels were interested to release their new full-length album, but eventually they chose to sign with Singapore-based label Pulverised Records. A new record deal was sealed really quickly with Pulverised Records and FACEBREAKER went back to Jonas Kjellgren´s Black Lounge Studios to record their second full-length album "Dead Rotten and Hungry".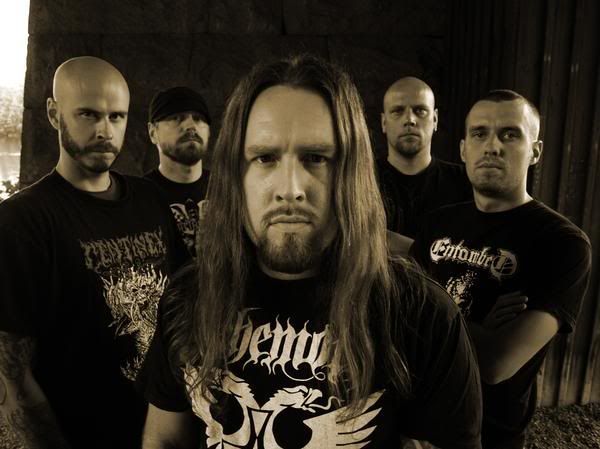 Country Of Origin:
Sweden
Line-up:
Roberth Karlsson - Vocals
Jonas Magnusson - Bass and Backing Vocals
Mika Lagrén - Lead Guitar
Janne Ivarsson - Guitar and Backing Vocals
Mikael Wassholm - Drums
Discography:
'Dead, Rotten And Hungry' CD 2008
'Bloodred Hell' CD 2004
'Hate & Anger' 7" EP 2003
'Use Your Fist' Demo 2000
Official website:
http://www.facebreaker.com
Myspace page:
www.myspace.com/facebreaker666