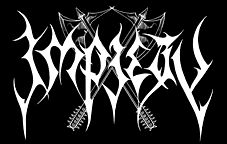 Band Biography:
The Ancient Years
IMPIETY's diabolical birth began in Jan 1990 a formation of 2 namely Shyaithan (guitar/bass/vocals) and Necro-Angelfornicator (drums) under the heavy influence of HELLHAMMER, SARCOFAGO, BATHORY, POSSESSED, DESTRUCTION, old MORBID ANGEL. A rehearsal demo/promo tape was recorded in early '91 with this line-up but never officially released. The band underwent a few line-up changes finding the right maniacs and thus recorded their first demo entitled 'Ceremonial Necrochrist Redesecration', formation with: Shyaithan (bass/vocals), Xxxul (guitars) and Iblyss (battery). Despite its low sound production, the metal underground worldwide positively received this demo tape. In 1993, Xxxul left and in replace came Leprophiliac Rex, the brother of Iblyss, to take over the guitars. IMPIETY signed to Shivardashana Records, and it's first diabolical release with this label was the Salve the Goat ... Iblis Excelsi 2 song 7 single in 94'. IMPIETY had improved technically in achieving a better production sound and also their own sadistic hell art of barbaric Black Death!
After the 7 inch EP release, Abyydos was added taking control of all lead/rhythm guitars, Leprophiliac Rex (bass), Iblyss (battery) and Shyaithan (vocals). And with this line-up, 'Asateerul Awaleen', the quartet's debut CD album of 8 fucking Black witching Metal tracks, was recorded & released in mid 96'. The response (reviews) from independent/major magazines was more than satisfying despite the horrendous production.
IMPIETY also recorded a 5-song MCD entitled 'Funeralight…' due for release early 1997, once again by Shivardarshana. But Shivadarshana shut down, and so the MCD was never pressed. Instead, a Limited Cassette-EP was pressed by an independent label Ultra~Hingax Productions from Malaysia. Only recently in 2007 did Agonia Records officially release 'Funeralight…' as limited Digi MCD.
Just shortly after the 'Funeralight...' recording, Iblyss & Abyydos left. Shyaithan appointed new, demonlords to the line-up and started delivering live shows beginning of 1997.
Armageddon 1999
IMPIETY recorded 'Skullfucking Armageddon'. 8 songs of uncompromising apocalyptic speed, bestial metal brutality and savagery. The line-up was Shyaithan (bass/vocals), Fyraun (guitars), Dajjal (drums). Both Dies Irae Productions and Drakkar Productions released this album. Just after the recording Dajjal left and Dagoth (ex-ABHORER) was recruited. IRON PEGASUS RECORDS (Germany) exclusively licensed 'Skullfucking Armageddon' on limited LP and PICDISC. Also Samhain Recs. (USA) released a cult IMPIETY/PROFANATICA split 7 EP the same year.
Anno 2000
A line-up change took place again and addition of 2 new wardemons: Xxxul (guitars) and Demonomancer (bass). Xxxul was the same terrorist who played guitars on IMPIETY's '92 demo C.N.R. Besides touring Asian Hell, the band delivered their debut 'Skullfucking Euro Armageddon 2000' in Europe, a 4 date mini tour summer of 2000. 2 months after the band returned from their first successful tour, Dagoth had to leave and Fauzzt was recruited shortly. IMPIETY delivered their 2nd European conquering 'Skullfucking Euro Battlestorms Tour 2000' in October courtesy of DRAKKAR PRODUCTIONS (France). An extensive 15dates in all, destroying stages in 6 countries! The tour went successfully well. Xxxul and Demonomancer left after the tours. IMPIETY signs to OSMOSE PRODUCTIONS for a 3 album deal late 2001.
Kaos 2002
The band also recorded their long awaited 3rd full length album 3weeks in July 2002 at Berno Studios - Sweden. This album was called 'Kaos Kommand 696'! Line-up was Shyaithan (bass/vocals), Fyraun (guitars), Fauzzt (drums).
IMPIETY delivered extensive a number of Live infernos and earthquakes across the South East Asian region. Highlights were the stage holocausts in Bangkok at the Annual God Beheading Live Ritual - Thailand, Formoz Open Air Festival - Taiwan and also the Under the Black Sun Festival in Germany! Towards the end of the year, Fauzzt and Fyraun left. IMPIETY decided to give boot to Osmose Productions since it saw little prospect working with this label.
Mexican Maldad 2004-2006
IMPIETY signs to Agonia Records for 2 album releases early 2004.
Shyaithan also established an international line-up. Oscar Garcia (drummer from HACAVITZ) and Antimo Buonanno (lead guitars from HACAVITZ and BLOOD REAPING) joined the Imperial War Command! With the new line-up IMPIETY recorded 3 songs at Ambox Studio, Mexico in February, released what is better known as 'Two Majesties' an infernal Split EP with SURRENDER OF DIVINITY courtesy of Unholy Horde Records.
Eduardo Guevara from BLOOD REAPING was added to the force. The line-up was Shyaithan (bass/vocals), Antimo (lead guitars), Eduardo (lead guitars), Oscar (drums). The band recorded their 4th full-length album of 8 songs 'Paramount Evil' at Ambox Studios once again, that was release late 2005. The response was enormous. The band successfully crushed a 9 date Mexican Assault Tour early August and 5 date Asian Desecration Tour between December - January 05. Shyaithan bids his Mexican Alliance farewell mid 2006, as mainly it was huge distance and lack of funds that kept the band from rehearsing, recording or destroying stages easily.
Formidonis Nex Cultus 2007
A new Asiatic line-up established by frontbeast Shyaithan saw the addition of 3 new tyrants to the regiment: Tremor (drums) from ARBITRARY ELIMENT, Mike (guitars) from ABSENCE OF THE SACRED and Iron Shaikh (bass) from DUSK. Also a diehard limited Live LP entitled 'Tormentors of Tijuana' was released in 120copies by cult Japanese HMSS Records. This recording comes from a live assault launched by IMPIETY in Tijuana, Mexico late 2004. The band recorded their most lethal album to date: 'Formidonis Nex Cultus', released in August 2008. The Reviews for 'Formidonis' was great (as usual). Demonomancer makes a return and replaces the position of Iron Shaikh on Bass since Iron Shaikh could not tour with the band. In October IMPIETY embarked on the Storm of the Antichrist European Tour of 18 dates with WATAIN. All in all, it was successful.
Dominion 18 2008
Out in April 1st week: '18 ATOMIC YEARS – Satanniversary' Double CD exclusively by Pulverised Records and Double LP to be released by Agonia Records. And it get's more hellish with the upcoming split 7" EP, IMPIETY / ABHORRENCE – Two Barbarians! This and fuckin' more in time to come…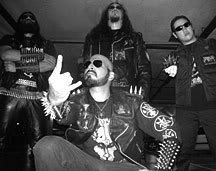 Country Of Origin:
Singapore
Line-up:
Shyaithan - Desecration & Death
Mike Priest - Vengeance
Demonomancer - Wrath
Tremor - Armageddon
Oscar Garcia - Unmerciful Atomic
Firepower (Tour)
Discography:
'18 Atomic Years- Satanniversary' 2CD 2008
'Two Barbarians (SPLIT 7" EP w/ ABHORRENCE)' EP 2008
'Formidonis Nex Cultus' CD 2007
'Tormentors Of Tijuana' - Live LP 2007
'Funeralight' MCD 2006
'Paramount Evil' CD 2004
'Two Majesties' (SPLIT 7" EP w/ S.O.Divinity)' EP 2004
'Kaos Kommand 696' CD 2002
'Unholy Masters Of Darkness' (SPLIT 7" EP w/ Profanatica) EP 1999
'Skullfucking Armageddon' CD 1999
'Asateerul Awaleen' CD 1996
'Salve The Goat ... Iblis Excelsi' 7"EP 1994
'Ceremonial Necrochrist Redesecration' Demo 1992
'Reh/Demo' Demo 1991
Official website:
http://www.mightyimpiety.com
Myspace page:
www.myspace.com/impietyofficial