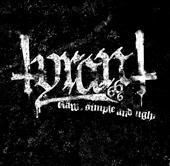 Band biography:
Formed by members from classic Swedish acts The Black and Vinterland; TYRANT is a band that has been created for one purpose and one purpose only: Reminding and how it was meant to be, creating a dark musical outfit that for once does relate to their history unlike many young pretenders nowadays.
Influenced by simplicity and ugliness, TYRANT go back to the roots with a great dose of groove and rock n roll,Injecting their raw and hatefilled rockin Black death Metal bearing influences from early classics like Venom, Bathory, Discharge, the songs are undoubtly cut off for live action.
This is not about overproducing, being modern, revolutionary . This is about the roots, the darkness, the very raw beginnings that made the scene what it is today. Pure power, anger, hate and catchy songwriting backed up with an unequalled attitude make up the strength of the titan TYRANT is bound to become.
"When others talk about perfectionism, we talk about simplicity.
When others talk about beautifying, we talk about uglifying.
Sometimes it's right to be wrong." D.F.Bragman / TYRANT - July 2007
Country Of Origin:
Sweden
Line-up:
D.F. Bragman - Vocals
P. Bjärgö - Guitar
A. Jonsson - Drums
D. Ekeroth - Bass
Discography:
'Reclaim The Flame' 2007
Myspace page:
http://www.myspace.com/officialtyrant